I haven't written in a while which is bad, but the reason that I haven't written is because I have been so busy fishing lately, which is not good but … … great. Just another example of what a "best and worst" summer and fall that I have had, but fortunately the good outweighed the bad, and in the end that is all we can ask for.
It was a long dry hot summer and by June I was hearing about a small forest fire called the "West fork Complex" near the town of South Fork, Colorado area. I hastily went to my trusty "inciweb" site to check the locations of the fire and track the extent of the damage. The location was closer to my beloved forest, mountains and streams of the Creede area than I had ever seen before. As many of you know I have a cabin in the Creede area and have been going to that part of the world since I was 5 years old, which is some 46 years now, and consider the area to not just be part of my life but part of my soul. I began to check the status of the fire first thing in the morning and then later each evening worrying and praying each time. But instead of being quickly contained it just kept growing and expanding, the worry in my heart and soul was expanding with every new inch of map space that now had red fire lines drawn across it. Streams I had fished for half my life were now threatened. Places I have loved and written about were now literally on fire, and there was nothing I could do but sit in the Georgia heat and worry helpless and scared. A friend sent me a link to a photo essay on "The Drake" where people were camping and fishing one of my favorite streams and literally had taken pictures of the wall of flames heading down the canyon toward one of my favorite campsites…… it literally made me cry. But while knowing that places I loved were burning was bad … … it just kept getting worse. The fire jumped the mountain tops which it very rarely does and actually began the decent of the Rio Grande valley. My 78 year old Mother, true to her nature, was still staunchly entrenched in the cabin refusing to leave despite the constant fog of smoke and the noise of helicopters and fire crews doing their best to protect the forest and the river. She called one night nearly in tears to report that she could see the flames clearly in the distance not just as a glow but actual shooting flames visible from the porch of the cabin. I heard the fear and concern in her voice all the way to the depths of my heart which had suddenly plummeted to the bottom of my toes, but there was nothing we could do, simply pray for God's help and trust in the hard work of the valiant and courageous fire teams. When the fire crews knocked on the 25th of June asking yet again for her to evacuate we decided that the best thing she could do would be to leave, a decision I know nearly broke her heart, but she was up there by herself and there really wasn't anything she could do to help the situation. So she drove away from the cabin she and my father had planned so many years ago not knowing if it would be there when she returned or not………
Fortunately for us the winds turned and several days of thunderstorms hit, turning the tide of the fire. Certainly not putting it out but turning it back on itself and stopping the 10,000 to 15,000 acres a day progress it had been making. By the end of June more than 200,000 acres had been burned but it was at least not advancing anymore. My Mother went back for the 4th of July as they had started to let home owners back into the area but while everyone tried to make light of it, the holiday was grim. We were all far from out of danger yet. Here was the scene from the front of the cabin on the 4th of July.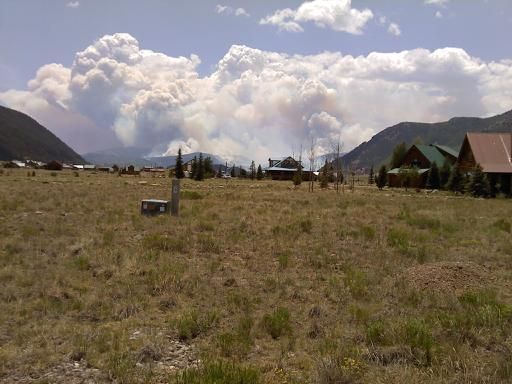 I had scheduled a vacation to Creede for mid-July many months ago so I did what all of my stubborn Davis family does … … I just plowed forward hoping for the best. Soon enough I found myself sitting on a plane watching a brilliant glistening white cloud bank surrounded by a sky so blue it almost hurt my eyes, not in rapt wonder of the beauty of what I beheld but in breathless anticipation of what my mountain paradise would be and what it would look like when I arrived on the ground in Colorado. I was comforted as I drove through the mountains from Denver that everything looked normal and as pretty as I remembered. It was with great trepidation (I got one of those readers digest vocabulary things for my birthday) that I first drove across the river at Del Norte. It looked pretty normal with the late afternoon sun glinting in a spray of light across the surface. I smiled to myself thinking this would be okay after all. I continued driving until Wagon Wheel Gap when I finally couldn't take it any longer and I stopped for a closer look at my river. As I stepped out of the car, the first thing that struck me was that wonderful smell of a stale "morning after" campfire. A smell not wonderful by itself but ingrained in so many, many mornings waking up listening to a river in a tent it smelled good to me … … until I realized that it wasn't the smell of a campfire but the smell of the air … … heavy with the bitter twang of a forest fire. I noticed the low level of the river and how smooth and easy she was flowing, thinking again how unscathed everything was. Then it hit me I should have been seeing rocks below the river water that was gliding by in the shimmer of the dropping sun, but I couldn't … … I reached my hands into the water relieved at the cool clean bite of the temperature but shocked at the smell of ash and smoke as I sniffed the water and realized that it was not clear at all it was the color of smoke, a ghostly opaque smoke color not the crystal clear mountain water I wanted to see. My heart dropped and my fear mounted for the brown trout I know and love.
I was in shock the rest of the way to the cabin but was relieved that from the front door of the cabin I couldn't see a great column of smoke just a few columns of smoke rising hazily off in the far distance, the cabin was at least safe. After hugging my mother and sharing a few moments of joy at being together and talking briefly of our concerns and struggles of the fire, I found myself on the porch where my blood pressure drops and my heart beat slows to match the flow of the river. From a few hundred feet above the river and a setting sun reflecting off the water like diamonds scattered on black velvet it looked perfect and pristine, so much so that my heart wanted to believe it. And with sunset views like this it was easy to imagine that all was right with the world. And based on the fact that I was standing at the undamaged cabin I guess it was.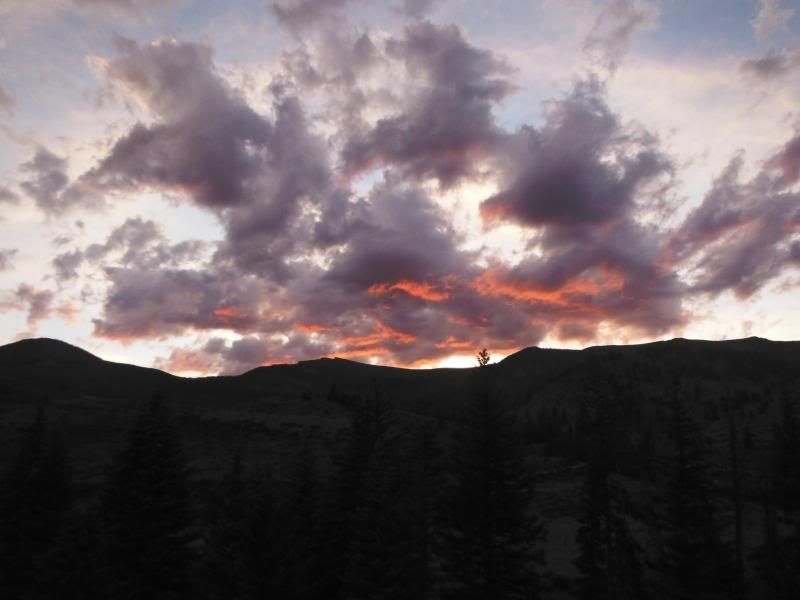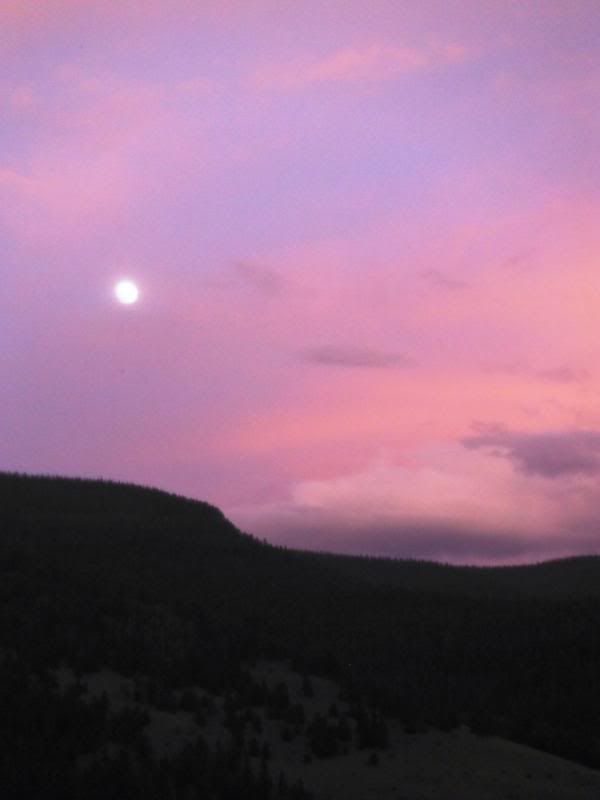 So with a concerned heart, and a couple bourbons to quiet my fears, I feel into a deep sleep listening to the roar of the river from the bedroom window. I could barely finish breakfast in my anxiety to go check on my river. As I got closer to the water the smell of ash and smoke became more pronounced. The water was low but almost black with dark rings of greasy ash showing on the high water mark of each rock. As if a dark fog were flowing at my feet tainting even the rock with its presence. I almost didn't rig my rod based on the depressing state of the water and the river as a whole, but somehow I remembered the brown flowing silt of spring run-off and countless other rain drenched chocolate milk streams I had caught fish out of so I rigged my rod and stumbled out into the river trying to wade by braille through water I couldn't see even an inch into. The first few holes that I fished were some of my favorites and I knew that they usually held a lot of fish, but I didn't even draw a tap. My spirits were starting to fall despite the beauty of the scenery around me.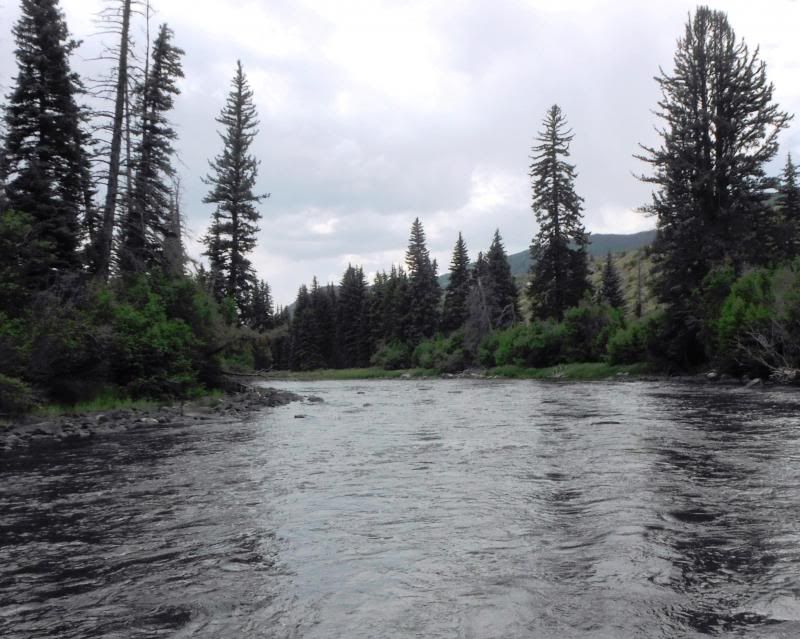 I was lost in sadness and remorse at what had been done to my river when suddenly it happened, almost without conscious thought or reaction from me, the indicator slide sideways in the water and I hit a slip strike out of instinct and found myself fast to the throbbing hum of energy that I know as a Rio Grande Brown. I quickly landed this one and then several more in succession and my mood turned positive faster than a blue norther racing across the west Texas caprock. A pair of lovely little rio grande brown jewels now sparkled in the crown of my memory and thanks to cameras the annals of my photo journals as well.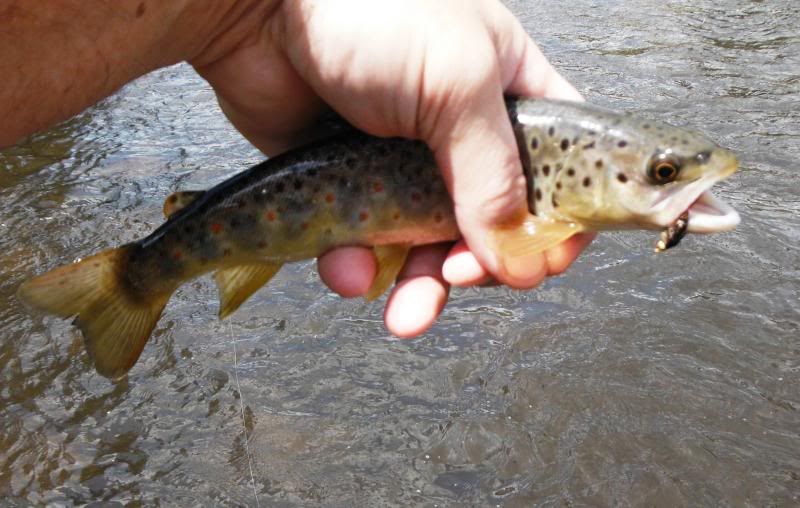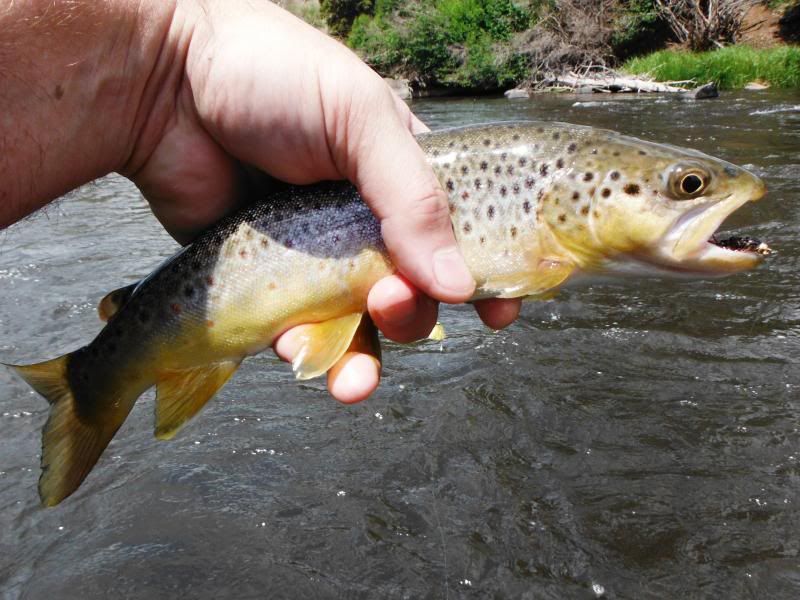 But as pretty as those fish were and how much better I felt it was still a chilling reminder when I decided to take an underwater shot just for curiosity sake… … the result speaks for itself.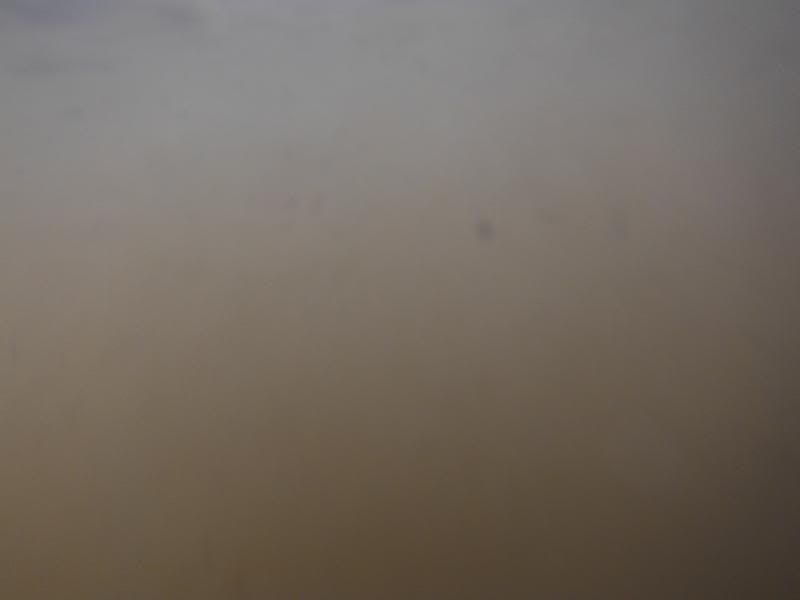 The rest of the day turned into as normal a day as could be expected fishing in that type water, but I couldn't quite escape the sense of melancholy from the damage that I knew must be upriver to cause this. However, the scenery was indeed gorgeous and fish were caught and some even fairly nice like this one.
That evening found me and my mother sitting out on the deck, watching the unspoiled wonders of the world … … from these marvelous hummingbirds … … … to one of the most beautiful sunsets I have ever seen in my many years in the mountains.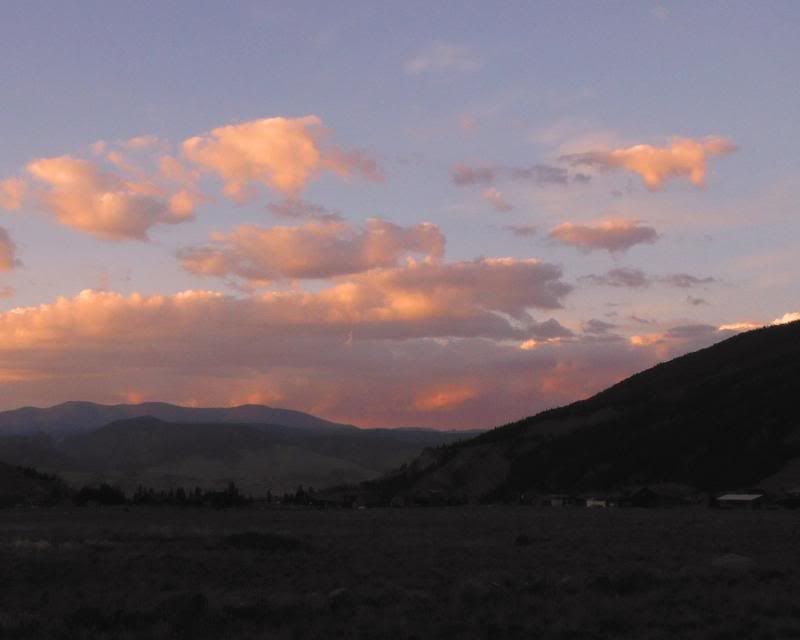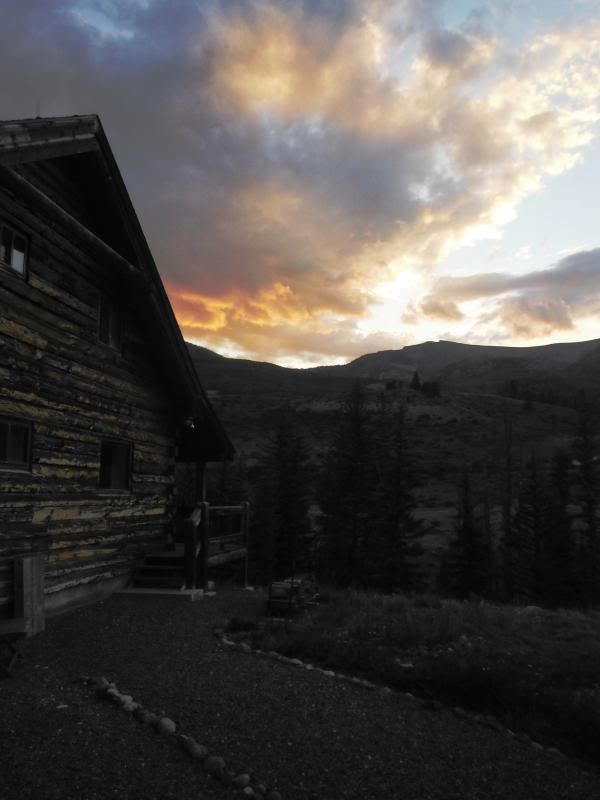 The beauty of the sunset was like a miracle for me, it was as if God was also saddened by the destruction and wanted to share some beauty to inspire hope, like a rainbow in a thunderstorm. With that thought I once again fell asleep to the sound of the river.
I couldn't face another day of black water and the road that leads to my favorite unburned fishing spots was still closed by the forest service so I had to find some new water to fish. I thought of all of the wonderful places I know to fish in this area but most of them were either burned or blocked by burn. A few days back an internet friend had heard my desperate concern for this area's watershed and had dropped one of his favorite "secret" spots on me to help me fill fishing days if the river was marred by fire runoff. So that was where I headed. It is amazing that here was a fairly large creek right under my very nose and I had neither explored it nor even heard of it as a fishing destination … … so yes there are still unfound and unspoiled waters out here. And thank you to my internet friend … … he knows who he is … … but then again I did give him a magical place even if he had to find it by his own perseverance and good luck … … and as to this stream all I will say is "head west young man head west". I had no idea what to expect when I drove up on a clear crisp summer morning. The stream was pretty but flowing over a moss bed and running shallow so I thought maybe a few small fish might be available at best ... … but then I have never turned my nose up at small fish or for that matter at any fish I might be lucky enough to catch.
The first few holes passed with no noticeable trout life and my expectations began to waver … … when suddenly my dry disappeared in a swirl the size of a sink. I jumped so high in shock I wrapped line around myself like a mummy and never even began to get a hook set. I made myself stop for a minute after I had all of my flies and line gathered back into my trembling hand and stopped to let my racing heart slow down and to let that monster get back into feeding position. My next cast was text book perfect but nothing moved by way of a strike, same for the next five. I felt myself grow frustrated at my inept fishing abilities and that botched hook set, so my next cast splat down on the water with all of the grace of falling "june bug" when all hell broke loose… … without even realizing it I had line peeling off my reel to the accompaniment of sounds only an old hardy can make. My surprise didn't last long as instinct once again took over and I found myself in a battle with a fish much larger than I had imagined would even "be" in these waters much less have hoped to "catch". Eventually the small water left the rainbow with nowhere to run so I ended up with yet another fish picture opportunity.
And soon several more truly fantastic fish for this size water followed. Yet more fish pic opportunities so I tried to get a few variations of different fish pictures than my standard one hand, drooping fish and wrist shot.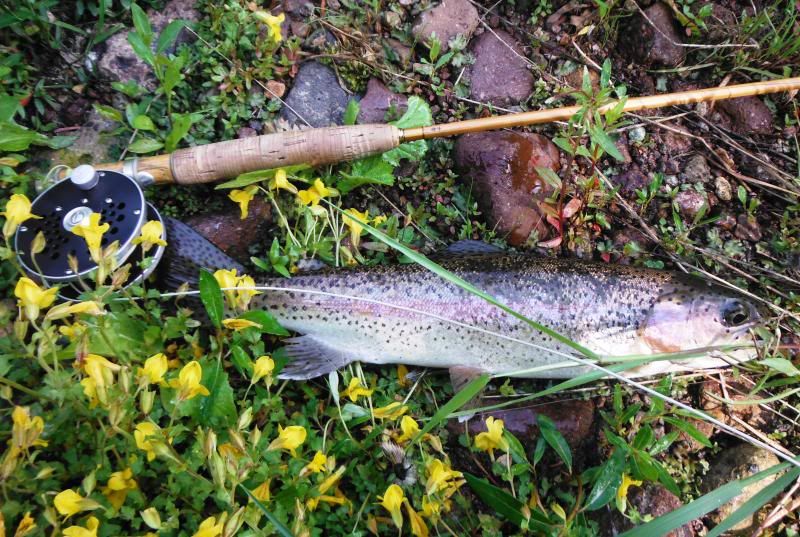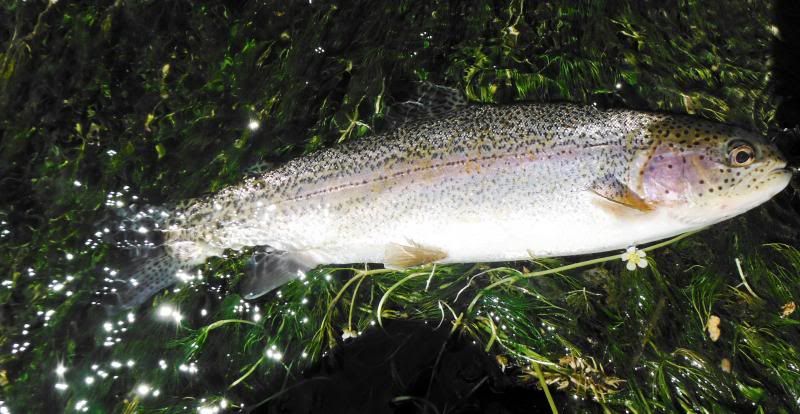 And the scenery for this particular stream was as good as the fish and that is saying a lot.
After a wonderful day on the water, I bid adieu to my new found truchas friends and headed back toward the cabin. On my way through town I heard the best news of the day though, the road to my favorite place on earth had been opened up today and I would get to go there on this trip after all………. Great news ……. The bad news is I would have to drive through the fire desolation to get there. Once again "Best and Worst".
The next morning found me driving slowly along the river as I headed toward the reservoir. The damage that was visible literally made me sick to my stomach. There were numerous places where there were burnt trees inside the lawn watering circle of someone's beloved cabin. It made me realize how much we owe in debt to the work of the forest service fire teams and what a truly amazing job they do. The tree line all the way down to the far side of the river was burned. Not burned out completely just dark black patches burned as if by a branding iron into the bright of the green aspens that were still visible in places. As I turned off the highway toward the box canyon the damage began to get more severe. I had trouble imagining what this hellish inferno must have looked like to the teams on the ground trying to defend the canyon lands. But I sent a prayer skyward in thanks to all they did for this forest anyway. As I turned up toward the small "road canyon reservoir" lakes my heart caught in my throat at the clear reflection of the damage.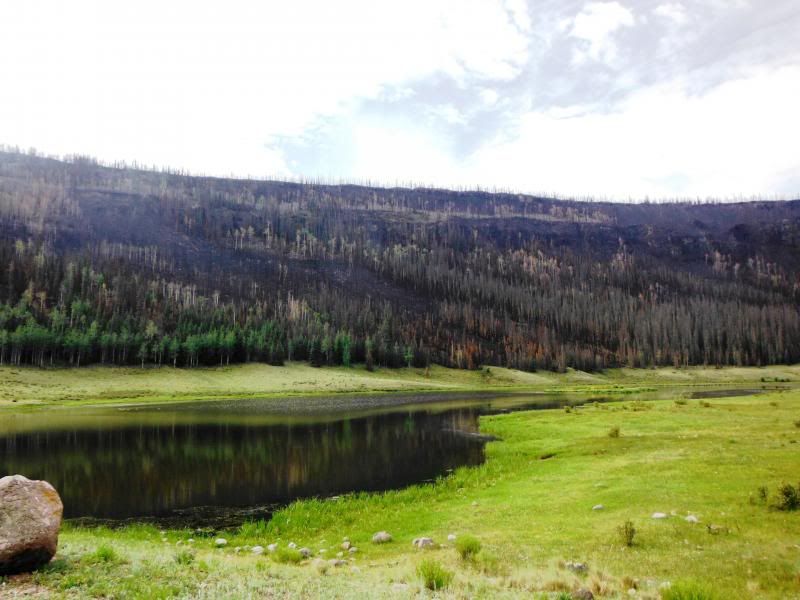 The area above the box canyon was even worse.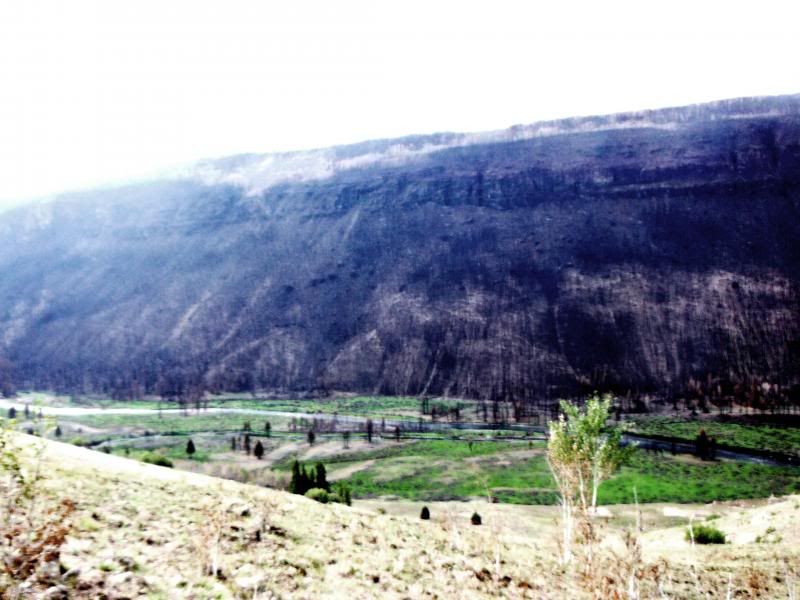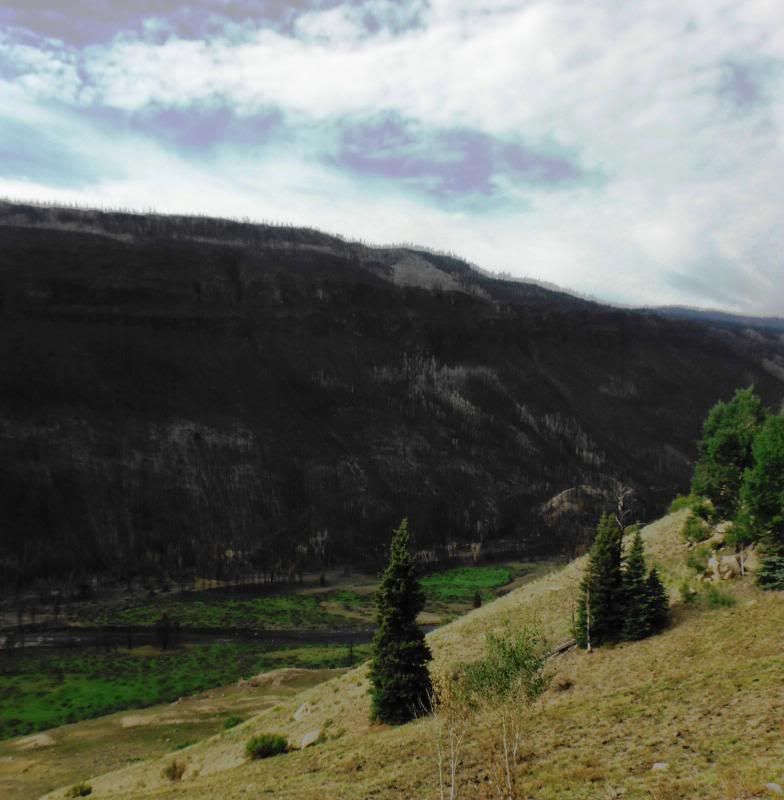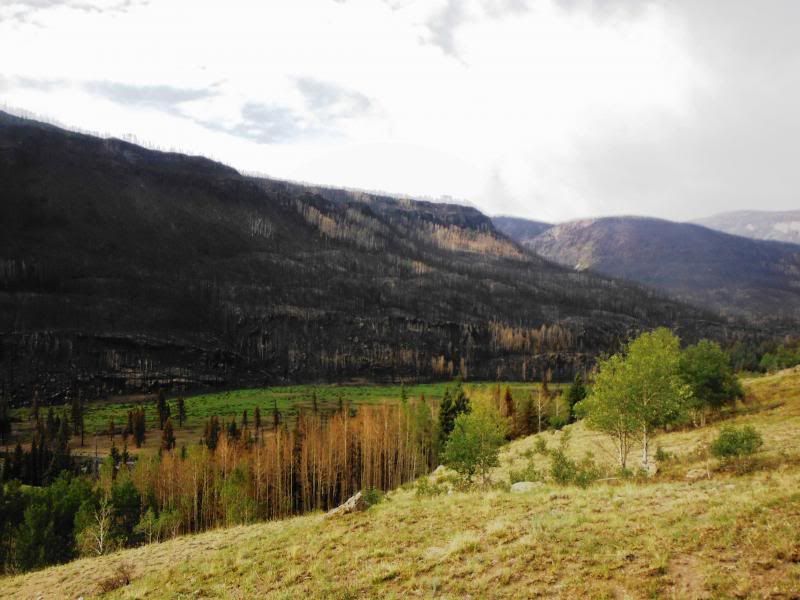 Then the true horror of it hit home as I rounded a curve to one of my favorite overlooks, I have a fall color picture of this very spot hanging in my office and I must admit there were tears in my eyes as I took this final fire picture and there are tears in my eyes yet again as I type these words and post these tragic before and after shots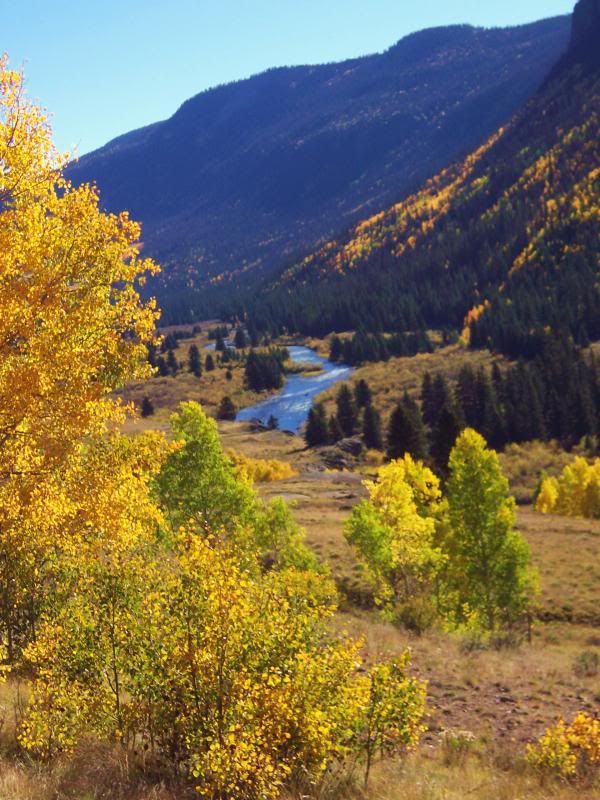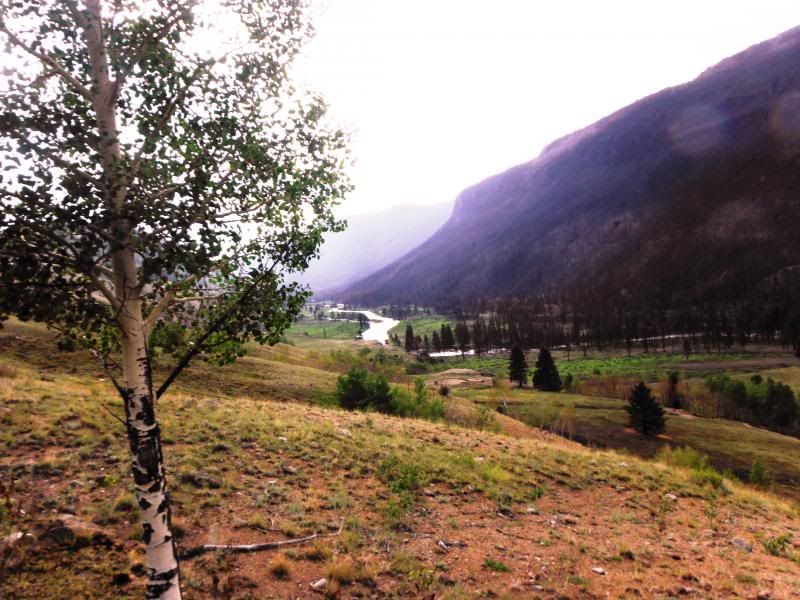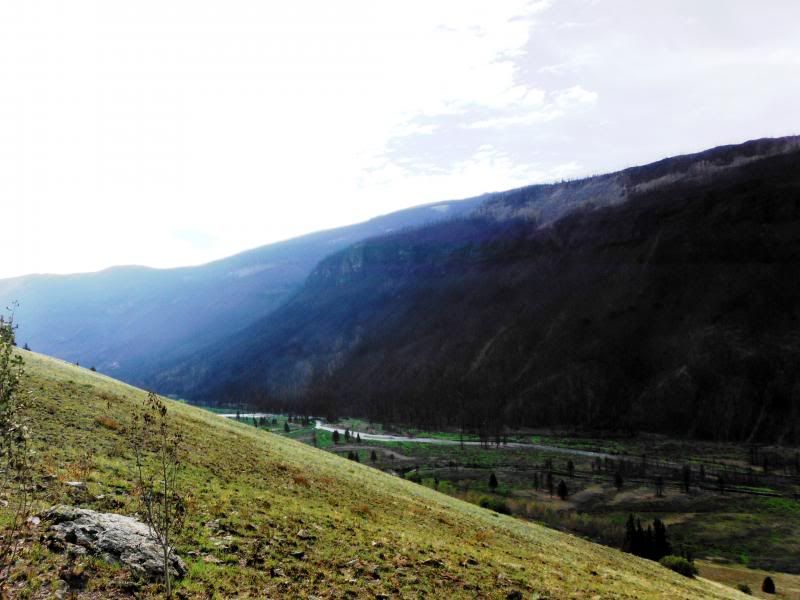 All I could hear in my head is my forestry department son's voice about how much better this forest would be after this fire, the elimination of the dead stand beetle killed trees would be a positive thing for this forest and in the end it would be stronger and prettier than ever and on an intellectual level I truly understood that …….. but on a purely selfish level I knew that those positive changes would never occur in "MY" lifetime … … and if this forest would never be the same in my lifetime, then I had truly lost one of the most important things in my world. But then again, the lives of men are short in terms of the time lines of forest and the time lines of my life are even shorter than that of most men. On one hand the best news is that the forest will recover and the worst news is …….. I will never see it back in it's prime.
But a few miles later and I drove out of the burn zone, parking my car at my favorite trailhead. This particular stream and this particular trip has been a highlight of my year for a very, very long time. My boys first went to this stream with me almost 15 years ago. They know this is where I eventually want my ashes scattered, in short it is a place that is very, very near and dear to my heart. As such I can't tell you the gratitude that I felt when I got away from the trail head and realized that it was totally untouched from the horrors of fire that I had seen below. I have written of this stream so many times I won't rewrite the beauty and the fishing but will simply post a few pictures to show that once again it performed far above any possible expectations and that it is truly worthy of my love and devotion.