I always keep my cell phone on vibrate. I was standing in the kitchen talking to my wife when it started buzzing. Normally I don't answer it if don't recognize the number, but for some reason I felt compelled to do so this time. My wife looked on as I took the call. I grew solemn as I held the phone to my ear listening to the voice on the other end, as if it was coming from inside my own head. "Mmm hm…, Mmm hm…, Yes Sir…" I acknowledged. I nodded in sync with my verbal response to emphasize my understanding of how serious this was - not that the voice would sense this action, but to convince myself of the imperative nature of the circumstance, and to portray that emotion to my wife, for her to consume.
"… I will. Goodbye." As I hung up the phone I looked at my wife. She was alarmed.
"What's wrong? Who was that?" she asked in a fearful voice, expecting the worst.
"It was the weatherman," I answered somberly.
"What?" Her voice expressed apprehension, but the look on her face hinted of confusion.
"He said it was going to be 70 degrees tomorrow and I needed to go fishing. If I didn't I would regret it." I was having a hard time keeping a straight face. "Forever."
Well, now she realized I was scamming her. She called me a name or two and said that was a mean trick. Then she said, "Let me guess, your gear is already packed and ready to go, right?"
"Actually, it's in the truck waiting on me."
She shook her head. "Have fun and be safe." Then she smiled and said "I don't want to get an alarming call that something really did happen."
The next morning, after a pleasant 45 minute hike, I found myself overlooking a pool on my favorite trout stream. Usually there is a strong current tongue that flows the length of it, but today it was barely noticeable. The lazy eddy to the left of the current that characteristically rotates slowly in a clockwise direction was still. Normally, I can barely see the bottom, but today, every rock and stick was visible. I don't know that I had ever seen the water this low. I didn't see any fish swimming around either, but on the third or fourth cast a small rainbow took the dropper as it lethargically drifted through the pool.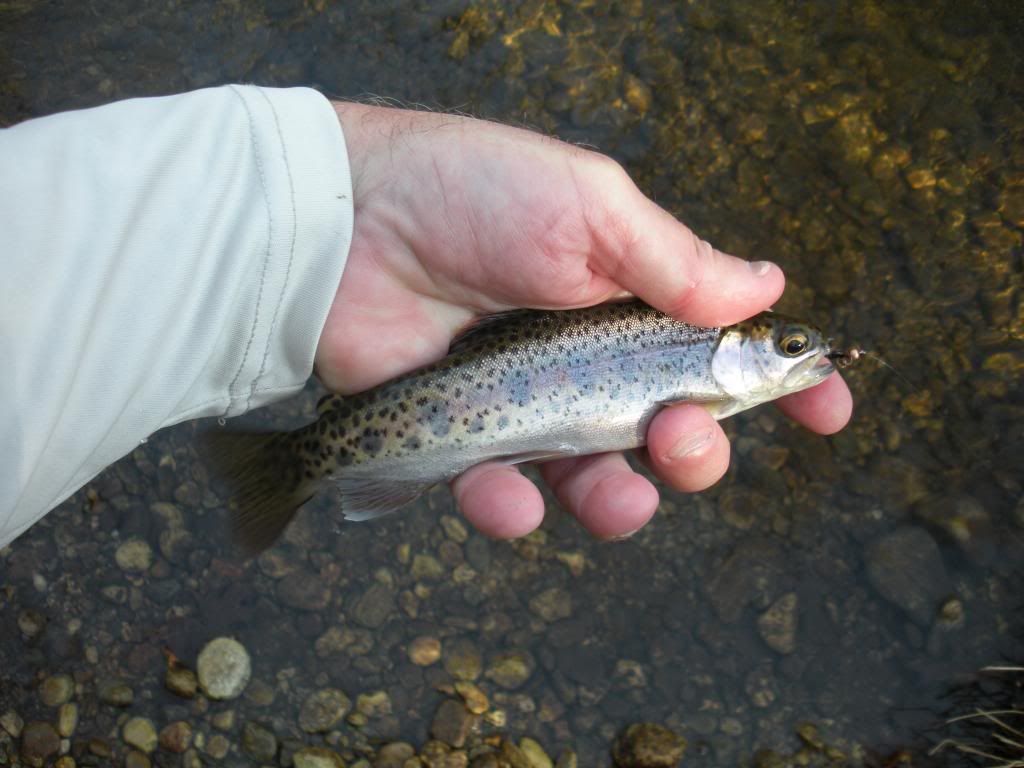 Just above that pool is a favorite holding lie where I almost always catch a fish. A well defined current flows towards the bank and deflects off of a boulder and continues downstream. There is an undercut in the rock where a fish usually awaits my flies as they drift by. Today, that rock wasn't even in the water.
I caught a couple more fish from a stretch of pocket water and shallow runs. Then, I came upon another favorite piece of water – a deep plunge pool. It is better fished with a weighted nymph beneath an indicator. I contemplated re-rigging for the one pool, but being lazy, I decided to fish it with the dry/dropper I had on. As my flies drifted over the rocks at the tail out, a trout came up and inspected my flies but wouldn't commit. I made a couple more casts to the same current tongue, but it was no longer interested. I made a few more casts around the pool, including to an eddy on the far side, but there was no more activity. I then got my back cast hung up on a bush on the far side of the stream. Instead of walking across the boulders at the tail out and disturbing the pool, I just broke off the flies figuring I could get them when I was ready to move on. I guess I would try that nymph after all.
I cast to the seam along the far side of the main current tongue where it ran along the eddy. I saw a large flash, but wasn't able to set the hook. Another cast, another flash, and another missed opportunity. On the third cast I connected to a healthy 11 inch rainbow that tore up the pool. Unfortunately I lost it before I could bring it to hand. I made several more casts but there wasn't any further interest. They were done. I crossed the creek and retrieved the dry/dropper I had deposited on a bush. After coming back across and re-rigging I decided to take a couple more casts before heading up stream. I cast to the eddy and let my flies sit there. Suddenly, the dry went under and I was connected again – this time to a decent brown. It was a nice consolation prize.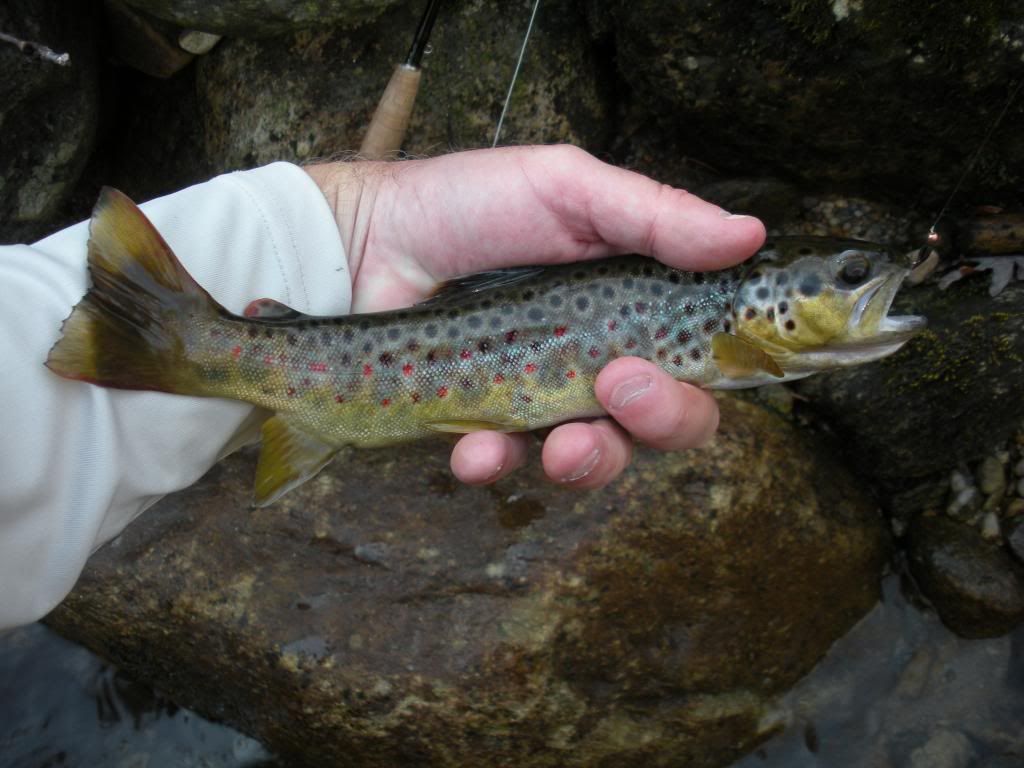 I caught a few more while working another stretch of pocket water. The stream fished like it was early to mid fall. Despite the low, clear water, the fish were not overly cautious. They were aggressive and fought hard. Takes were not subtle. Add the shirtsleeve weather to the mix and it was hard to believe that it was the 9th of December.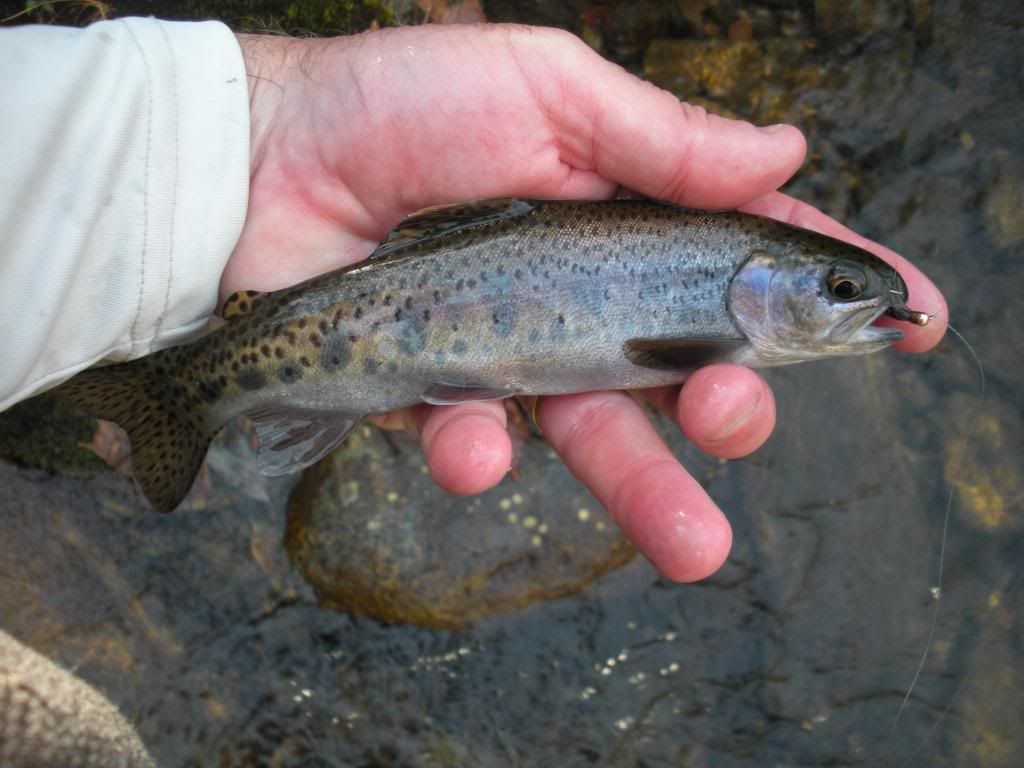 As I approached another favorite pool I saw something scurry across the bank and dive into the water. I think it was a small otter. I assumed it spooked the fish and the pool was ruined – for the short, as well as the long term. Since I had to pass through there, I decided to make a couple of casts anyways. I was pleasantly surprised when a heavily spotted rainbow took the dropper. As it swam around the pool during the battle, another one chased after it.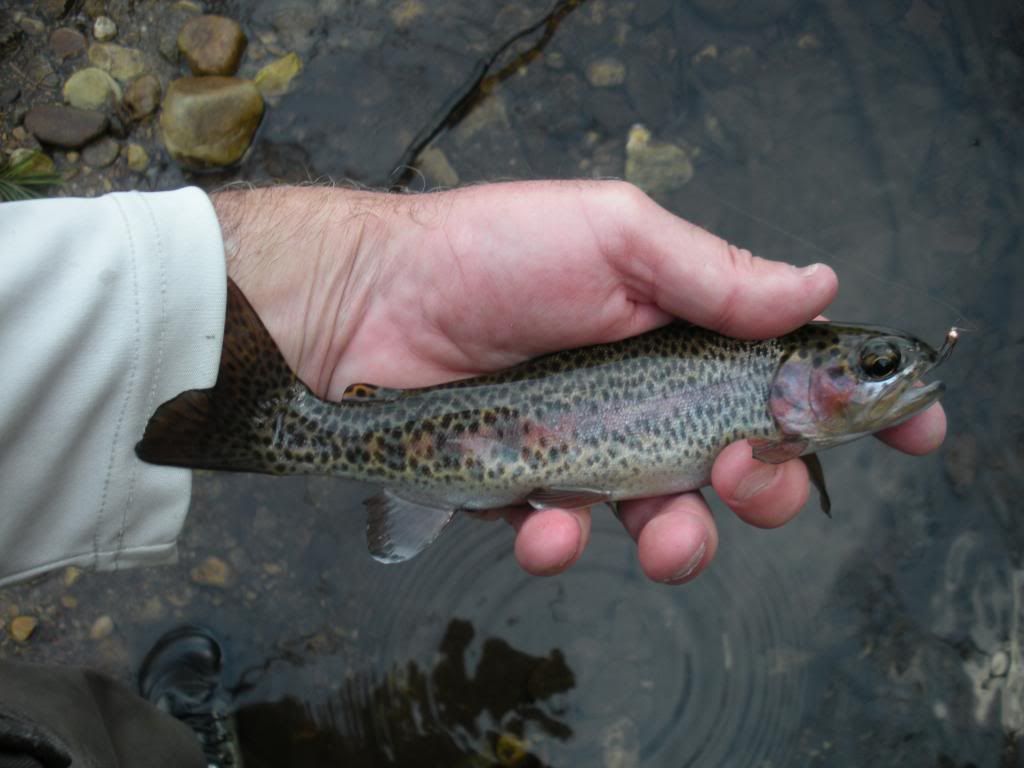 A couple casts later I caught the chaser. Not bad for a spooked pool.
The fish remained pretty active as I continued upstream. This feisty little 'bow took the dry, and once it realized it was caught, headed straight downstream into a brush pile. It made a mess of my leader.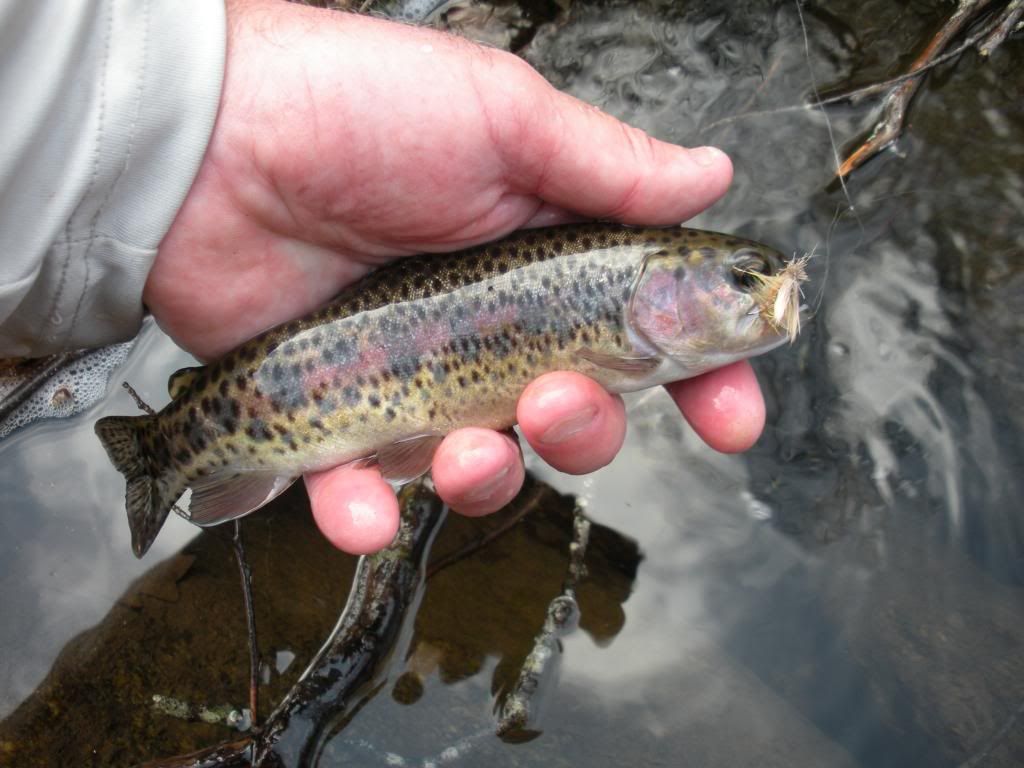 As the day went on browns became more prevalent. They tended to get a little bigger too.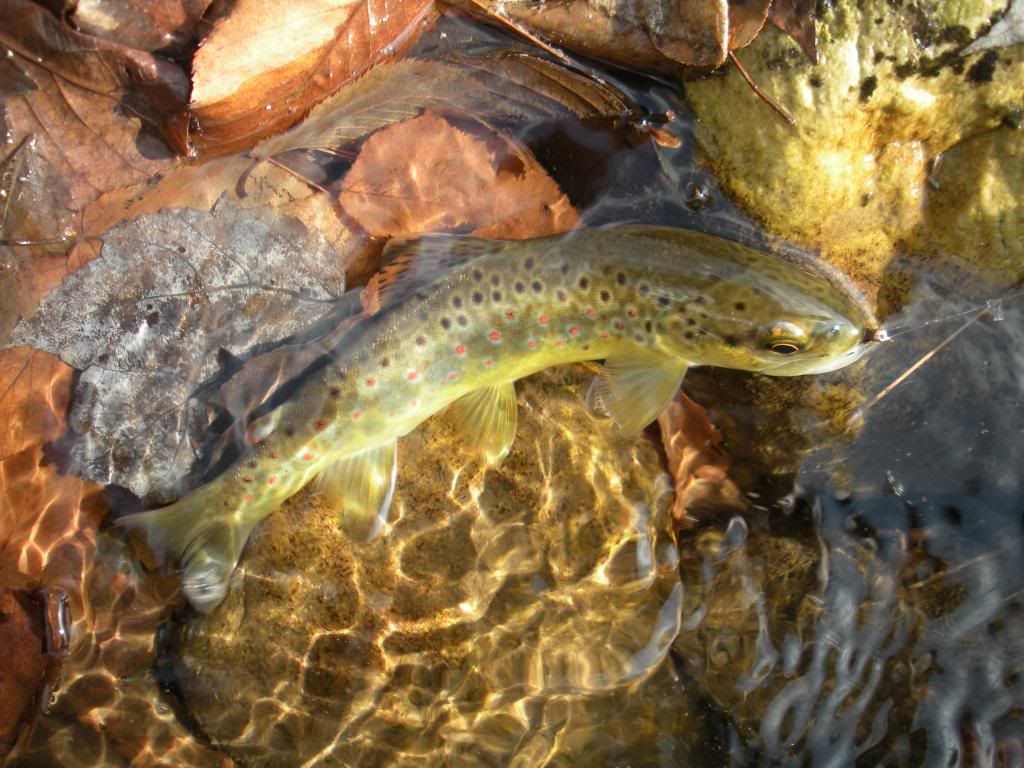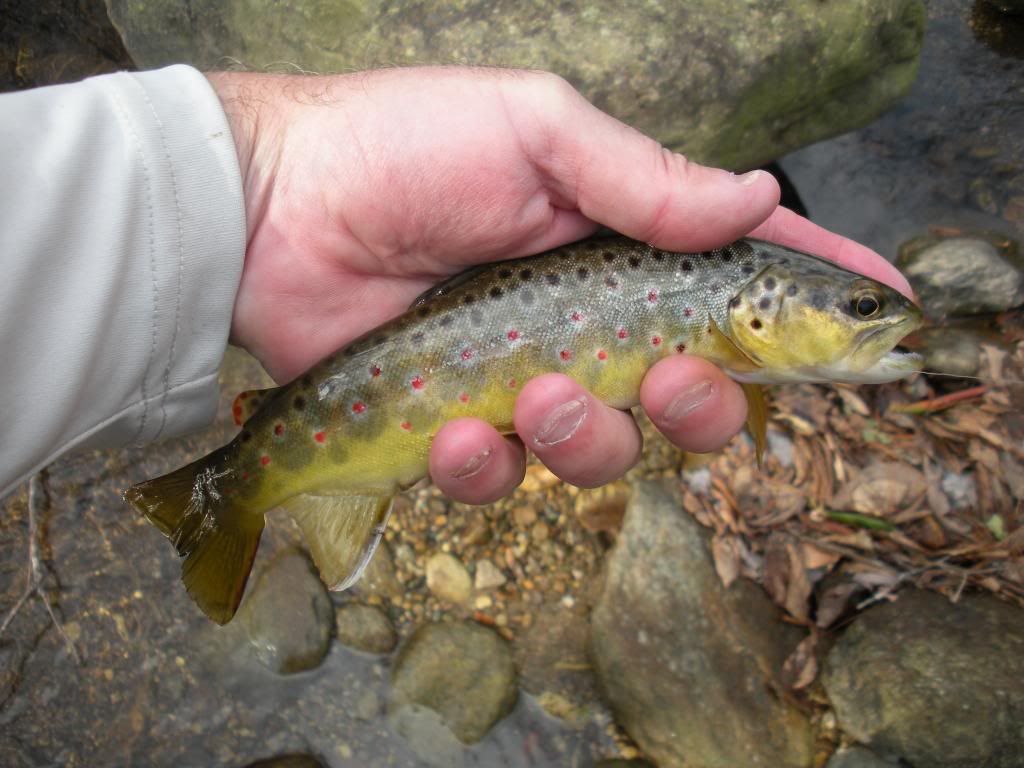 I ended the day with 20+ fish. Most were caught on the dropper. Only two or three fell to the dry including the nicest one of the day. It was an 11+ inch brown that was tucked beneath the current in a shallow trough surrounded by even shallower water.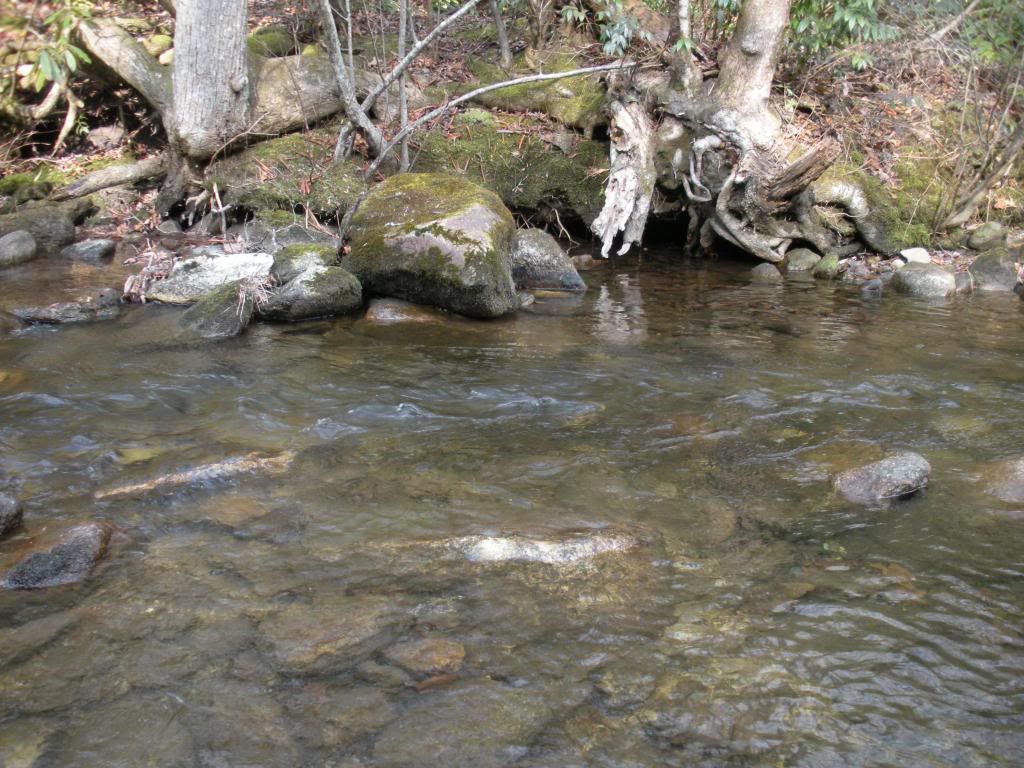 It's a pretty steep climb back up the hill. Waders make it even tougher. But the temperature was perfect for the hike out, as it had been all day, so it didn't seem as difficult as usual. All things considered, this was about as perfect of a day as I could have asked for. I'm glad I answered the call.