This year's family summer break arrived as quickly as the latest global financial meltdown - the destination of which was decided six months previously. In order to prevent two weeks of sulking (childish I know but desperate situations call for desperate measures!) I'm prepared to go anywhere so long as there is an abundance of brown trout inhabiting several miles of small stream. I surreptitiously put forward the idea of Dartmoor in Devon which also happens to contain in excess of 15 miles of river on the Duchy of Cornwall estate of which fishing is available through the Westcountry Angling Passport scheme - West Country Angling.
True to form we arrived on Dartmoor in atrocious conditions - I almost expected to see the Hound of the Baskervilles running through the cloak of mist and rain that shrouded the moor. What with the infamous Dartmoor Prison as the backdrop I'd started to question my choice of venue for this summer's getaway.
In a bid to fish as much of the waters on offer I bought a week permit from the Post Office in Princetown for £30 - this would entitle me to fish all of the waters on offer on the Estate. First on the list was Upper West Dart above the Two Bridges Hotel.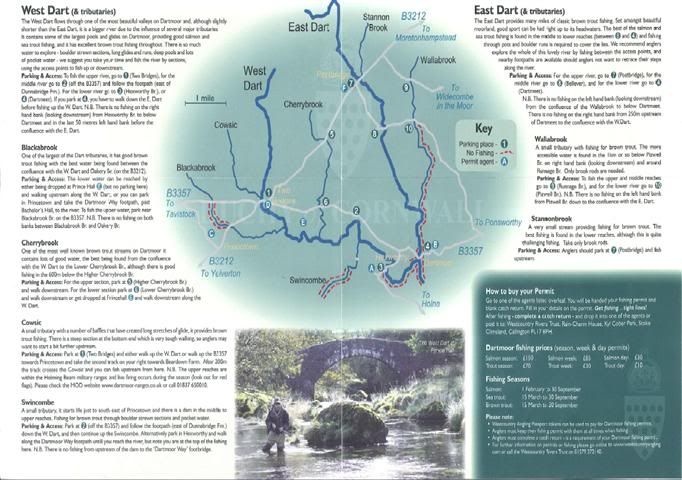 Dartmoor Fishing Map
Upon arriving the water was alive with small brown trout sipping tiny emergers off the surface of the gin clear water. I tackled up my 6ft 2wt Hardy Lightweight - on the business end a 7ft 6in Orvis Superstrong leader tapered down to 6x and a foot of 8x Orvis Superstrong tippet to which a #30 Chironomid Emerger was tied. Stealth when small streaming is crucial to a successful day out, on Dartmoor however the crystal clear water and moorland environment devoid of trees and other foliage in which to conceal your intentions make the stealth factor even more crucial. This was highlighted on my first attempt when the previously active water became devoid of anything trout related as I entered the stream - this is by no means going to be a walk in the park - but then I like a challenge ...
#30 Chironomid Emerger
A tactical rethink and SAS style approach was rewarded with the first fish of the holiday - small, perfectly formed and full of attitude.
Upper West Dart reward
Dartmoor offers a diverse trouting experince from trickling moorland streams such as the Blackabrook, Cherrybrook to the other end of the spectrum where larger waters such as the lower stretches of the East and West Dart present a bigger river style challenge. The permit allows great flexibility in that if conditions on the upper stretches of a river deteriorate (as can happen quickly on Dartmoor) a short trip in the car takes you to a different catchment where a more favourable environment makes the day that bit more enjoyable.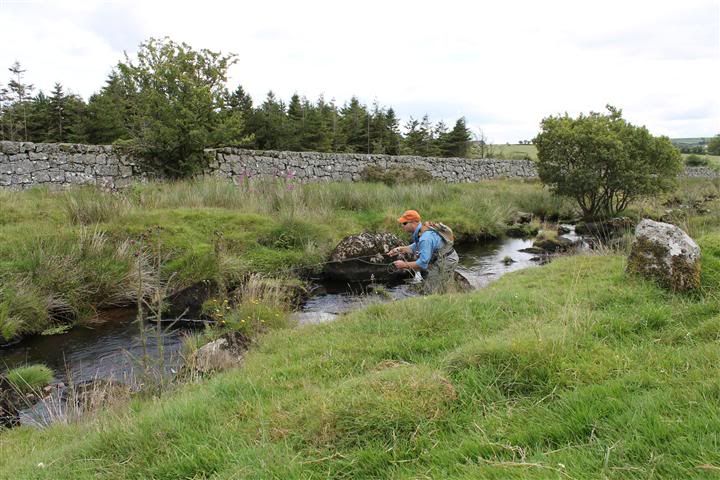 Blackabrook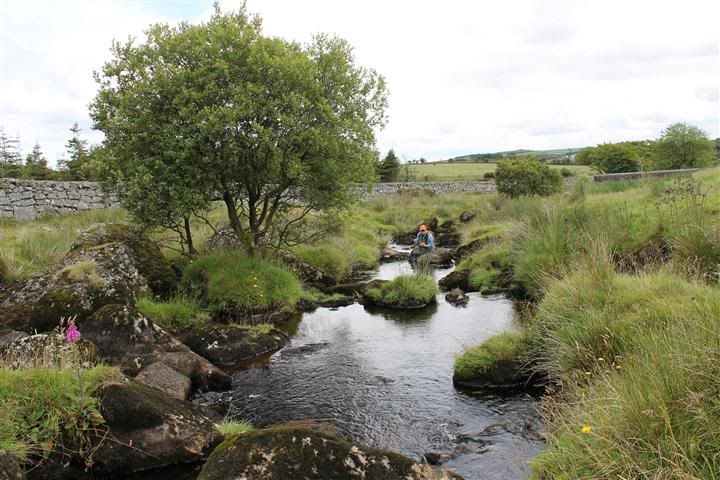 Blackabrook
The variety of fishing each river has to offer, from smooth glides to deep pools and small pockets of water between rocks and boulders, is guaranteed to ensure you keep your tactical trout hat on.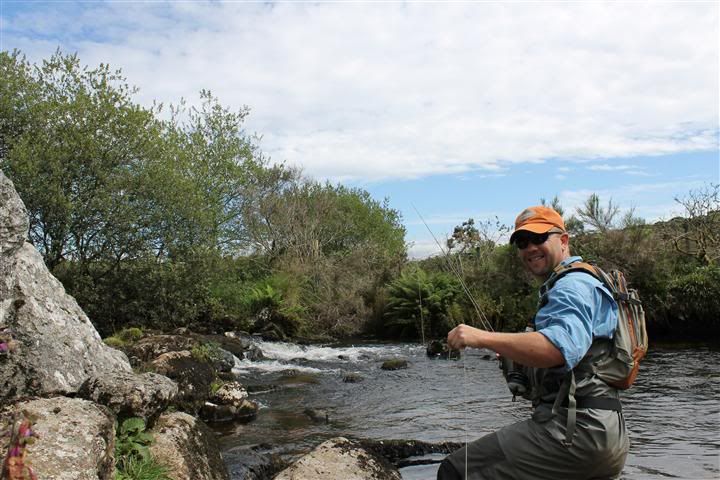 Middle East Dart (Bellever)
Smooth glides and fine tippets (Middle East Dart at Bellever)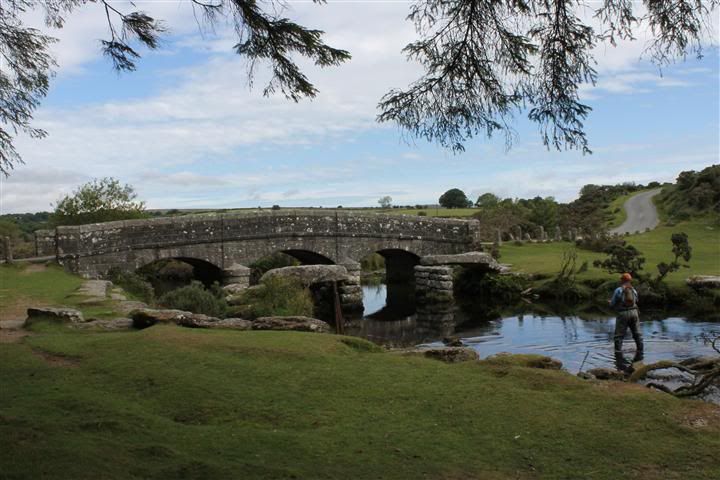 Ancient Clapper Bridger (Middle East Dart at Bellever)
Foxgloves (Digitalis purpurea)
Amongst family duties I managed to fish a wide cross section of the waters on offer on our 10 ten day break. It has to be said though that if I had to choose a favourite river it would be the Cherrybrook from the confluence with the West Dart up to the Lower Cherrybrook Bridge.
I'd walked a section of the Cherrybrook the first week of the trip and it seriously captured my imagination. On a brief visit with the family I could not but help myself and cast a few tentative lines into the peaty coloured water which revealed half a dozen small brownies. I had to get back before the trip was over - no matter what. Our last day was preceded by a night of torrential rain which had me conjuring up visions of a washed out boggy moor and river. Being the eternal optimist I convinced my wife to pack her camera and bring a shower cap in case/when the next deluge hits.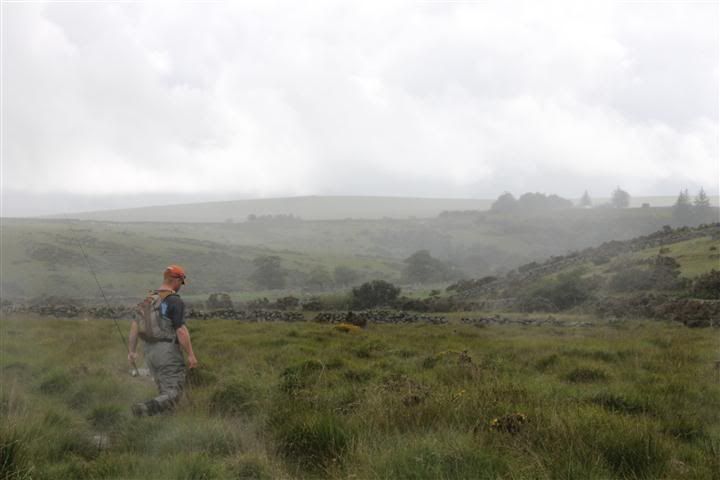 Hostile weather trying to break us - never ...
The river wasn't nearly as bad as expected - we made our way to the confluence with the West Dart spotting the occasional rise on the way down from the car park. It didn't take long - the small black Klink disappeared in a frothy swirl and a golden brownie made its way to my hand.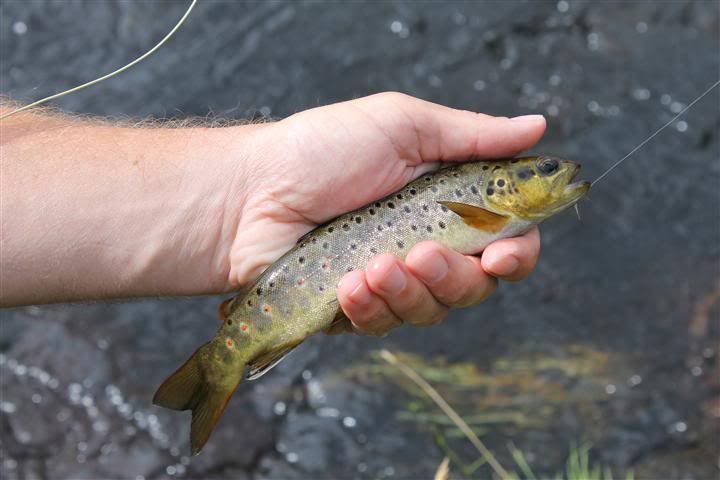 Cherrybrook gold
My spirit soared - all doubts from the previous evening washed away in the light Dartmoor rain - you simply don't get better than this.
The river led me through hidden treasure troves ...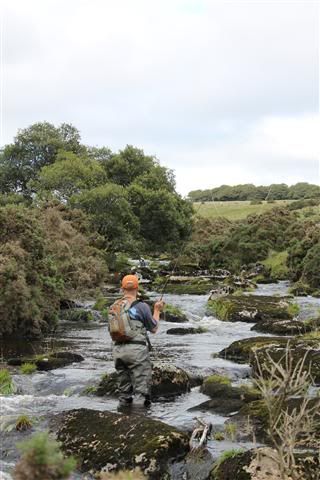 Picking a Cherrybrook pocket ...
Occasionally revealing it's golden bounty by way of small brown trout.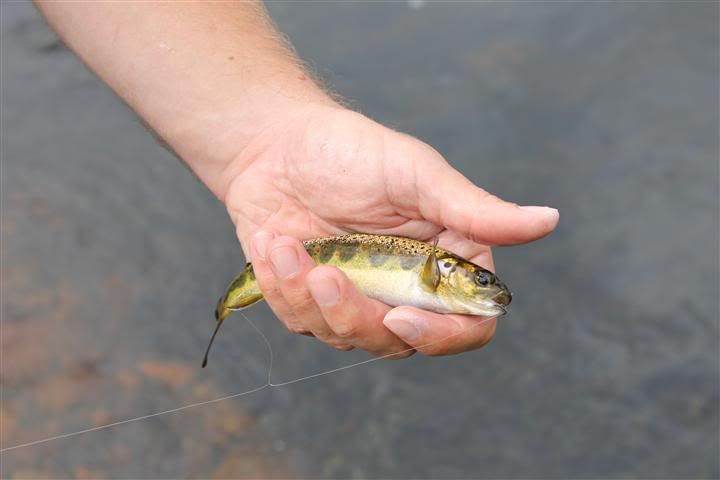 Cherrybrook brownie
The day was sadly coming to an end - I'd entered the usual "just one more cast" phase that just never seems to come when a small recess behind a rock mid-stream exploded in a maelstrom of brown and white foam. A sizeable fish came tailing out of the water about 10 ft in front of me - my 6ft6 3wt bent over into an obscure angle. This was the fish of the trip I was thinking - without a doubt! Fighting for its life it took off downstream - gently I eased it back until it was a rod length away when the line went slack. I stood there in utter disbelief! The brief glimpse I got as the tailing display unfurled in front of me is all I had to take away - the brief disapointment though was eclipsed by an enormous sense of satisfaction of having had the privilege of fishing some of the most picturesque, rich waters in the UK.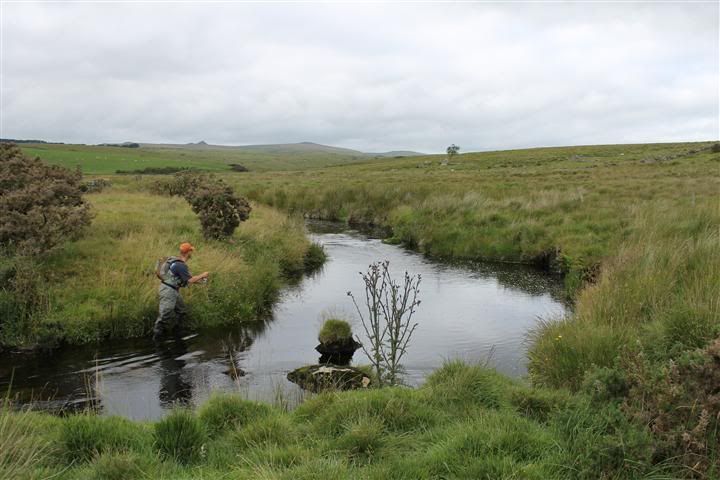 I'd read magazine articles written by Mike Weaver and John Stephens (Trout & Salmon and Fly Fishing & Fly Tying) which fueled my desire to fish these waters. My expectations were high but they were met and exceeded on all levels. Dartmoor is a stunningly beautiful place - a stark, silent beauty which you can immerse yourself in and totally escape the pressures and anxieties of modern day life. Global financial meltdown - I know where the real gold lies ...
More to come on my blog:
http://smallstreamquest.blogspot.com/